Regular Porta Potty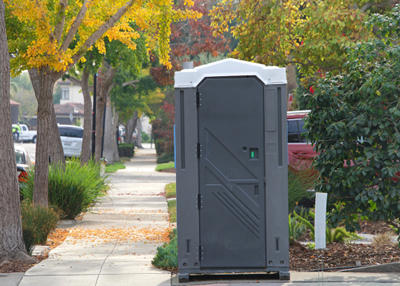 A regular porta potty is one of the most common portable units. This is a standard unit that lacks a lot of sophistication. It is merely a portable single-unit toilet. Most event organizers and organizations prefer it because it is the cheapest and most convenient option. Since these units lack many features, they are generally smaller than the others.
They are mostly used in construction sites, renovations, concerts, outdoor gatherings, and parties. However, just like any other portable unit out there, there are a few things that you should look out for. Let's look at these:
Duration of the event
The duration of your event is critical since these units come with smaller tanks. Therefore, if you envision a day-long event, you might end up disappointed or run out of toilet space. If you are planning a short-term occasion, maybe half a day, these units will serve you well. If you are hosting visitors for a long time, you may need to consider other bigger options, such as the deluxe units. Alternatively, you can approach a company that cleans and empties the bathroom on location, which might come at an extra cost, albeit small.
Additional features
Even though this unit comes with standard features, there are some exceptions. Therefore, when looking for the best regular porta-potty, look out for features such as mirrors, proper lighting, and a hand sanitizer. Unfortunately, most of these units lack a flushable sink meaning that you may need a portable washing station outside. All in all, a regular unit with additional features will cut down costs helping you deal with your guests on a budget.
Money
If you are looking for something cheap, this should be your first option. This explains why most portable washrooms in events and parties are mostly regular, with only standard features. You will save costs even when you decide to rent in clusters. If you have extra money, you can choose to get these units together with a few deluxe porta potties. The deluxe porta potties can be reserved for you or the distinguished guests. This might save you the cost of getting several portable washing units, bringing down the cost of organizing an event.
Event
Before settling for a regular unit, you must consider the nature of events and the people who will grace the occasion. These units lack several features, and therefore, if you are planning to invite mothers with young kids, you may need to change your mind. If you are hosting regular party-goers, who may only need the toilet for a short duration, you might go ahead and get them. However, if you are hosting distinguished guests, regular porta potties should not be in your catalog.
Cleveland
Who hasn't heard of Cleveland? It is one of the largest cities located on the shores of Lake Erie. It is a major manufacturing center surrounded by several fantastic views. Therefore, if you live in or around Cleveland and are in dire need of porta potties and related services, you can always contact us.