Portable Hand Wash Stations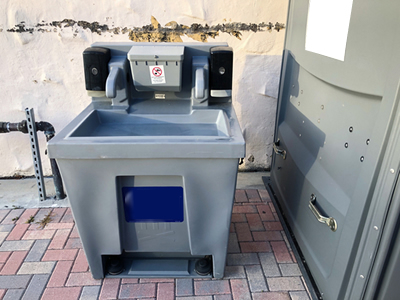 A portable hand wash station offers the benefit of providing effective handwashing whenever needed. Because the COVID-19 pandemic is still present, we must everything we can to protect ourselves, our loved ones, and the people n our community. Health experts recommend frequent handwashing as one of the most effective ways to get rid of virus and other germs. Setting up a permanent sink with faucet takes time. Fortunately, a portable hand wash station is now easily available. As the name suggests, you can set one of these handwash stations up quickly and easily. This makes it ideal for establishments such as restaurants, parks, and other public places.
Many people rely on hand sanitizers to clean their hands. While the use of sanitizers is also effective, still nothing beats handwashing. Experts recommend that you wash your hands for at least 20 seconds with soap. Unfortunately, hand wash stations are not always available. It's a good thing that portable hand wash stations now exist. These stations are very easy to install. And they can be set up almost anywhere, whether in an indoor or outdoor location. This can also be used for schools to encourage children to always wash their hands. Even if regular bathrooms and washrooms exist, establishments should think about adding more wash station, especially in areas that tend to become crowded.
If you own a restaurant or a catering business, then it's a must that you instil the habit of regular handwashing to all your personnel. If the lack of handwashing stations is a hindrance, then it is highly recommended that you get a portable hand wash station. Being clean in the food business is very important. By implementing effective hygiene practices, you will not only be protecting your business but also the health of your staff and customers.
Another crucial industry nowadays is the medical industry. Every day, doctors and nurses and other hospital personnel are risking their lives to treat people who are sick or injured. It is a must that hospitals are always clean. This is not only for the protection of patients but of the medical staff too. During this pandemic, we have seen hospitals being burdened because of too many patients who are seeking medical attention. It is a must to ensure that PPE and masks are in abundant supply in medical establishments. Handwashing should not be neglected too. Adding a portable hand wash station in hospitals can help people there from the coronavirus and other disease-causing microorganisms.
There are different kinds of portable hand wash station available. The best ones come with soap dispensers. You should also choose one that is built with sturdy materials to make sure that it will last. You should place the portable hand wash station in a highly visible area so people can easily see it. Ideally, it should be placed in the entrance of the building so people can wash their hand before coming in and after leaving the premises. It can also be installed outside of regular washrooms. Give us a call to get a free no obligation quote for your next event or party in the Cleveland area.