Heinen's Downtown
Heinen's is a family-owned grocery store business that was established in 1929 in Shaker Heights, Ohio. The company started off as a butcher shop before it evolved into a grocery store. Heinen's founder, Joe Heinen, was focused on providing their customers with quality products and good customer service. This gained the loyalty and trust of their customers that made the business survive through the changing times and not only that, they even outlive their competitors. This almost century old family run business is now under the leadership of the founder's grandsons, Jeff and Tom Heinen.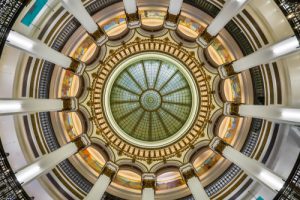 Operating the company with the founder's principle as their foundation, the new leadership ventured into providing the much-needed services to a bigger population outside of Shaker Heights and have sailed from the suburbs to downtown Ohio. This venture has transformed downtown Cleveland into an amazing neighborhood complete with amenities available for everyone 24 hours a day and 7 days a week. Accessibility to necessities is not the only thing that was brought about by this venture because Heinen's Downtown also upgraded Cleveland's tourism to a whole new level.
In 2015, Heinen's finally opened its doors downtown and assumed its new residence at the intersection of East 9th Street and Euclid Avenue in the Nine-Twelve District and have transformed the 100-year-old Cleveland Trust Company Building into a grocery store. This building was built in 1907 and was designed by George B. Post with a mix of Beaux-Arts, Neoclassical, and Renaissance Revival architectural styles. In the center is a stunning 85-foot (26 m) high 61-foot (19 m) wide stained glass dome by Nicola D'Asenzo. Below the dome displays the 13 murals done by noted artist Francis David Millet who served in the civil war and died in the sinking of the RMS Titanic on April 15, 1912.
These murals are hard to miss and it depicts the founding of the New World and more specifically that of Cleveland. This gem of a building was home to one of the first banks in Cleveland and turning it into a grocery store would have been a challenge both to Heinen's as well as its developer. With an architecture that's so rich in culture, preserving its true form and integrity while at the same time repositioning it dramatically into a shopping experience that would work for the customers is a challenge that was won in this epic metamorphosis. In the rotunda, you can conveniently dine in style or even order take-out from their beautiful array of food.
They have a very welcoming staff in the grocery who would assist you in a way that you will feel like you are home. On the second floor, is the self-serve wine station where you will find the Sip, Swirl and Savor dispenser that offers a variety of wine. The selection changes regularly though but it is still amazing how you can take a taste of a new wine before you actually purchase a whole bottle. Heinen's downtown is not only the best grocery store and restaurant.in the country, it is also a world-class cultural experience that you should not miss whenever you are visiting downtown Cleveland.
---